Lost Creek Reserve, Ohio
Backpacking Workshop and Overnight Trip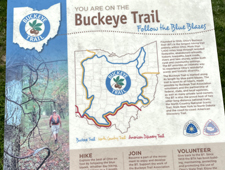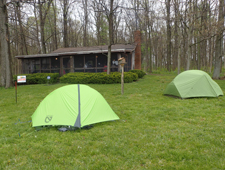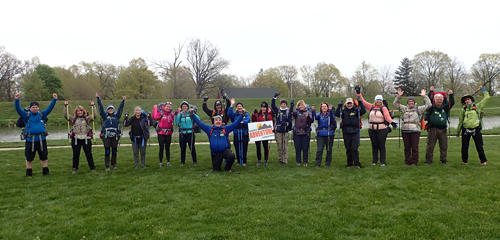 Backpacking Workshop and Overnight Trip
Skill: Level I
April 2 - 3, 2022
Lost Creek Reserve near Troy, Ohio
Meets at 10:00am.
Fee: $125.00 - Includes Saturday dinner
Limit 16 participants

WORKSHOP FULL. Join the waiting list.
Want to be added the waiting list?
Send us an email with your first name, last name, phone number and trip name to
andy@outdooradventureconnection.com
and we will add you to the waiting list. We can and do cancellations.
Ready to learn about backpacking? This is a perfect opportunity!
Description:
This is a one night, backpacking trip for first time backpackers and beginning backpackers. It includes seven workshops on backpacking essentials that every backpacker should know. This trip is designed for those with little or no backpacking experience who have always wanted to try backpacking under the guidance of highly experienced backpackers. Experienced backpackers are welcome too! Share your tips and hints!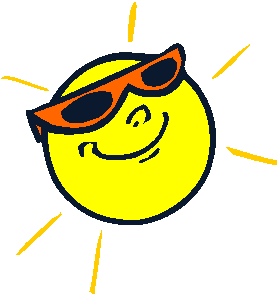 About Lost Creek Reserve:
Lost Creek is the largest park in the Miami County Park District with 457 acres of landscape. It has 5.75 miles of trail that takes you past farm fields, through wooded areas and along Lost Creek making this Reserve a great place for hiking, cross country skiing and viewing wildlife.
Park Web Site
Attention Miami County Residents
Bonus:
Miami County residents who register for this event will get a $25 rebate. Rebate to be given at the event.
Restrictions:
Early registration and $25 rebate are only available to Miami County residents who have a RecDesk account with the Miami County Park District. To check if you have a RecDesk account or to create a free account visit:
Miami County RecDesk Portal
. Please note that registration for this event is not through the RecDesk portal.

The Plan:
On Saturday we will hike on the paved Buckeye Trail through Troy, on an old railroad bed to the trails at Lost Creek Reserve for a total of four miles. Our campsite for the night will be near the rustic Lost Creek cabin which we may use in the event of rainy or cold weather. On Sunday morning we will will retrace our steps back to our cars arriving around noon. A park naturalist from Miami County Parks will join us for this trip. Learn the names of plants and animals while you hike.
During this backpacking trip we will conduct seven short workshops and cover these topics:
Proper Backpack Fitting and Trekking Pole Adjustment
Bear Bagging - Hanging Your Food In A Tree
Backcountry Sanitation & Hygiene In The Woods
Fire Building
Backpacking Stoves & Cooking
Leave No Trace Principles
Packing Your Backpack & Gear Organization
What Is Included?
Your registration fee includes professional guides, all workshops, course material, any shuttle, camping, parking or permit fees, Saturday dinner and dessert around the campfire. Dinner will consist of sampling various backpacking food entrees. This is a great chance to check out different backpacking food choices and decide which you like best!
Not included:
Gear, meals, (except for Saturday dinner), snacks, transportation and optional guide gratuity.
Required Equipment:
Backpack
Tent
Sleeping Bag & Pad
Headlamp or Flashlight
Sitting Pad. Foam or Inflatable
Warm Clothes (warm hat, gloves & long underwear)
Rain Gear
Food: Saturday Lunch, Sunday Breakfast.
Personal medications: Aspirin, Ibuprofen, Antacids, Pepto-Bismol, Prescriptions (as needed).
A pair of trekking poles, hiking stick or staff is highly recommended!
Don't Have Backpacking Gear? Rent Gear From These Places!
Five Rivers MetroParks - Dayton, Ohio
Five Rivers MetroParks now provides backpacking equipment for community use via weekend rentals. These equipment sets are a great way to try something new before purchasing equipment, access high quality equipment for a fraction of the cost, and eliminate obstacles for planning your next outdoor activity. Contact Angie Sheldon at 937-275-7275 with any questions.
FRMP Rental Gear Page
Wright State University - Fairborn, Ohio
The Wright State University Outdoor Resource Center offers outdoor equipment rental available to the public. Items available to rent include: Backpacks, Tents, Sleeping Bags, Sleeping Pads, Backpacking Stoves, Kayaks, Tarps, Helmets. Ask for the Outdoor Adventure Connection discount and get student rental rates which is 33% off the public rates.
WSU ORC Rental Gear Page
Wright Patterson Air Force Base - Fairborn, Ohio
WPAFB Outdoor Recreation offers a wide range of rental equipment which include camping equipment and more. See the Outdoor Recreation Price List for a full listing of rental items. A military id required to enter the base and to rent gear.
WPAFB Rental Gear Page
Roads Rivers Trails - Milford, Ohio
Not ready to go head-first into your equipment purchases? Do you have your first backpacking or paddling trip coming up? Want to test out certain brands and equipment before investing? Roads Rivers and Trails now offers gear rentals on backpacks, stoves, sleeping pads, sleeping bags, water filters, kid carriers, paddles, life jackets, trekking poles, headlamps, tents, cargo boxes, dry bags and more!
RRT Rental Gear Page
Ohio State University - Columbus, Ohio
Don't have the right gear for your camping trip? No problem! Outdoor gear is available to rent and pick up at the OAC. Rental equipment is available to Ohio State Rec Sports members only. A valid BuckID or Rec Sports membership card is required.
OSU OAC Rental Gear Page
Know of a place that rents gear? Let us know and we will list it here.
Your Guides: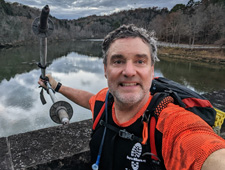 Andy "Captain Blue" Niekamp.
Andy Niekamp is the Chief Adventure Officer for Outdoor Adventure Connection, which specializes in backcountry adventures. Andy has hiked over 26,000 miles including five end to end hikes of the Appalachian Trail and thru hikes of the Buckeye Trail, Ohio To Erie Trail, Florida Trail, Sheltowee Trace, Long Trail, Ozark Highlands Trail, Colorado Trail, Superior Hiking Trail, John Muir Trail and the Bartram Trail. Andy is founder and leader of the Dayton Hikers group, the largest outdoor recreation group in Dayton, Ohio, and a Leave No Trace Master Educator. Andy Niekamp grew up and lives in Dayton and has a passion for long distance hiking which he shares with others. Andy brings his wealth of backpacking experience and his passion for hiking to this program. He has two rules for his backpacking trips. Number 1: Be safe. Number 2: Have fun!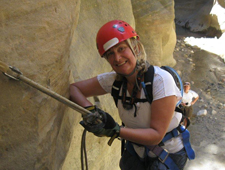 Tama Cassidy.
Tama is a full-time naturalist for the Miami County Park District. She loves to hike, backpack, and be out in nature. She is a Leave No Trace Master Educator. She hikes sections of the Appalachian Trail each year. In her spare time, Tama can be found underground exploring wild caves. She and her husband were invited to a weeklong underground expedition in Lechuguilla Cave, New Mexico. She's rappelled Golindrinas Cave, a 1,200-foot pit in Mexico with her daughter and husband. Tama is experienced in canyoneering at Zion National Park.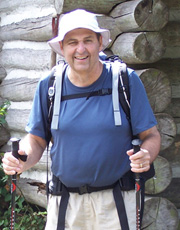 Glenn Roberts.
Glenn has been backpacking for nearly 40 years, and still hasn't figured out whether he has 40 years of experience, or 1 year of experience 40 times. He is strictly a recreational backpacker; all his walking has been in Ohio, Kentucky, and Indiana, with the occasional trip to the Appalachian Trail in Virginia and to Isle Royale National Park in Lake Superior. Most of Glenn's trips nowadays are long weekends in rolling terrain; his "mountain" days are memories. In his younger years, Glenn has led backpack trips for Scouts and troubled teens. Glenn is a gearhead, so don't be afraid to ask him about gear and equipment – it's a topic he can be boring about for hours. Glenn, who is in his early 70's and plans to backpack into his late 80s (at least), provides insight and perspective for older hikers, whether they are just taking up backpacking or looking for ways to continue at a less aggressive pace. Before he retired in 2021, Glenn was a CPA. Glenn is happily married, a proud grandfather, a mediocre golfer and a weak chess player. Glenn is the author of two popular articles:
How I Got This Way
and
Where Can I Backpack?
.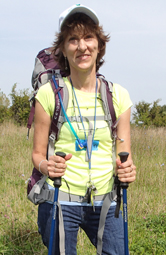 Karen "Tag Along" Power.
Karen began backpacking in 2014 after completing Outdoor Adventure Connection's backpacking workshop and overnight trip. Since then Karen has become a backpacking enthusiast. She has completed 3 long-distance trails: Ohio's 1444-mile Buckeye Trail, the 1100-mile Florida National Scenic Trail, and the 340-mile Sheltowee Trace National Recreation Trail. Karen has hiked 600 miles on the Appalachian Trail and has backpacked the Foothills Trail, the Twin Valley Trail, Red River Gorge, Big South Fork, Cumberland Gap, the Shawnee Backpack Trail and the Zaleski Backpack Trail. She loves the "living in the moment" feeling of backpacking and being outdoors. Karen is a retired college professor, mother of three sons, grandmother to four and has volunteered abroad in China, Costa Rica, and Italy in a variety of capacities. She is an Ohio Certified Volunteer Naturalist and is trained in Wilderness First Aid and CPR/AED. She is also a professional writing coach.
Read about Karen's Florida Trail adventure
.
Here Is What They Say About Our Level 1 Workshops:
We had an amazing time even in the rainy weather!!!
–
Dawn L.
Had a great time! Guides were very knowledgeable and I loved how they shared their personal experiences and answered all questions thoughtfully and honestly. I will definitely take an advanced workshop.
–
Mike K.
I really liked hearing about everyone's different experience and the tricks they learned while backpacking and camping. It was a great experience and I got to meet lots of really energetic, nice and wonderful people!
–
Katie H.
I loved all aspects of the trip, well....except that 28lb pack was not so pleasant the first hour, but after some adjustments by the guides, it wasn't difficult. I did not want the weekend to end! All the guides were so helpful, friendly, and full of information from their own various personal experiences. I will definitely do this again!
–
Bridget M.
Amazing company and absolutely beautiful weather in the great outdoors. Yes, I even enjoyed the fresh down pour of rain on our way out! The trip after the trip was truly joyful.
–
Kathie V.
I liked the Leave No Trace discussions and the discussion in between with other participants
–
Name Withheld
I liked all the different workshops. I liked hearing advice from all the guides.
–
Teri H.
I've done the workshop twice, and I can't recommend one thing to make it better! Fantastic!
–
Gina B.
It was awesome! Enjoyed everything, even the rain!! Looking forward to more backpacking trips!
–
Gwen T.
Thank you so much for spending your time and sharing your knowledge and experience.
–
Robin Y.
---
Cancellation & Refund Policy:
Your registration fee includes a non-refundable deposit of 20% of the amount received. PayPal fees are not refundable. Your registration fee, minus the 20% non-refundable deposit, minus any PayPal fees, is refundable if you cancel 28 days in advance. Your registration fee is 100% refundable if this event is canceled or rescheduled.
Important:
All participants must complete an adventure application and sign a liability waiver.
Adventure Application PDF with fill-able form fields
or
Adventure Application PDF to download/print.
Application must be returned for your registration to be confirmed. Note: If you've attended one of our trips in the last 12 months we have an application on file for you.
Notes:
Minimum age is 18. No pets permitted. All of our trips are non-smoking. A recommended gear list, meeting location and trip details will be sent via email to registered participants.
Great backpacking adventure! Had a great time, met new folks and learned tons. Thank you. – Janet S.