Our Guides
We have the best guides in the outdoor recreation industry. Our guides are highly experienced and certified. Our guides have thousands of miles of backpacking experience. For every trip at least one guide is a certified Wilderness First Responder. All of our guides are trained in Leave No Trace. Most are Leave No Trace educators. Many of our guides are employed full time in the outdoor recreation industry.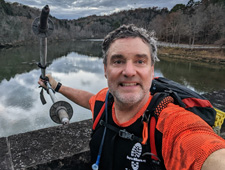 Andy "Captain Blue" Niekamp.
Andy Niekamp is the Chief Adventure Officer for Outdoor Adventure Connection, which specializes in backcountry adventures. Andy has hiked over 26,000 miles including five end to end hikes of the Appalachian Trail and thru hikes of the Buckeye Trail, Ohio To Erie Trail, Florida Trail, Sheltowee Trace, Long Trail, Ozark Highlands Trail, Colorado Trail, Superior Hiking Trail, John Muir Trail and the Bartram Trail. Andy is founder and leader of the Dayton Hikers group, the largest outdoor recreation group in Dayton, Ohio, and a Leave No Trace Master Educator. Andy Niekamp grew up and lives in Dayton and has a passion for long distance hiking which he shares with others. Andy brings his wealth of backpacking experience and his passion for hiking to this program. He has two rules for his backpacking trips. Number 1: Be safe. Number 2: Have fun!
---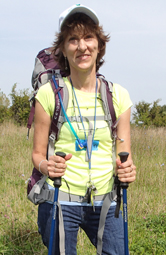 Karen "Tag Along" Power.
Karen began backpacking in 2014 after completing Outdoor Adventure Connection's backpacking workshop and overnight trip. Since then Karen has become a backpacking enthusiast. She has completed 3 long-distance trails: Ohio's 1444-mile Buckeye Trail, the 1100-mile Florida National Scenic Trail, and the 340-mile Sheltowee Trace National Recreation Trail. Karen has hiked 600 miles on the Appalachian Trail and has backpacked the Foothills Trail, the Twin Valley Trail, Red River Gorge, Big South Fork, Cumberland Gap, the Shawnee Backpack Trail and the Zaleski Backpack Trail. She loves the "living in the moment" feeling of backpacking and being outdoors. Karen is a retired college professor, mother of three sons, grandmother to four and has volunteered abroad in China, Costa Rica, and Italy in a variety of capacities. She is an Ohio Certified Volunteer Naturalist and is trained in Wilderness First Aid and CPR/AED. She is also a professional writing coach.
Read about Karen's Florida Trail adventure
.
---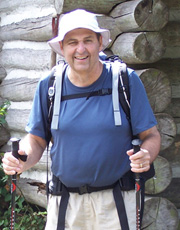 Glenn Roberts.
Glenn has been backpacking for nearly 40 years, and still hasn't figured out whether he has 40 years of experience, or 1 year of experience 40 times. He is strictly a recreational backpacker; all his walking has been in Ohio, Kentucky, and Indiana, with the occasional trip to the Appalachian Trail in Virginia and to Isle Royale National Park in Lake Superior. Most of Glenn's trips nowadays are long weekends in rolling terrain; his "mountain" days are memories. In his younger years, Glenn has led backpack trips for Scouts and troubled teens. Glenn is a gearhead, so don't be afraid to ask him about gear and equipment – it's a topic he can be boring about for hours. Glenn, who is in his early 70's and plans to backpack into his late 80s (at least), provides insight and perspective for older hikers, whether they are just taking up backpacking or looking for ways to continue at a less aggressive pace. Before he retired in 2021, Glenn was a CPA. Glenn is happily married, a proud grandfather, a mediocre golfer and a weak chess player. Glenn is the author of two popular articles:
How I Got This Way
and
Where Can I Backpack?
.
---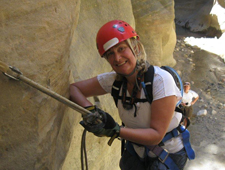 Tama Cassidy.
Tama is a full-time naturalist for the Miami County Park District. She loves to hike, backpack, and be out in nature. She is a Leave No Trace Master Educator. She hikes sections of the Appalachian Trail each year. In her spare time, Tama can be found underground exploring wild caves. She and her husband were invited to a weeklong underground expedition in Lechuguilla Cave, New Mexico. She's rappelled Golindrinas Cave, a 1,200-foot pit in Mexico with her daughter and husband. Tama is experienced in canyoneering at Zion National Park.
---
Kristy Matheson.
Kristy's passions are yoga, wellness and being in nature with just about any outdoor activity. Kristy is an experienced hike leader and an active member of the Dayton Hikers group. In her professional life she is a Licensed Social Worker, and Certified Dementia Practitioner. She is a talented motivational speaker on topics such as women's wellness and the therapeutic benefits of nature based adventure. Kristy is a 200-Hour Certified Yoga Instructor. In addition, she is certified in Wilderness First Aid and CPR/AED. Kristy and her husband have three children and live in Germantown, Ohio. She looks forward to sharing her passion of nature, adventure, yoga and wellness with you.
---
I absolutely enjoyed the trip and the workshops. I'm hooked and wanting to learn more about back country backpacking and go on more trips. – Paula H.